I like to try and take our monthly family portraits somewhere that will have a memory attached, a holiday, day out, birthday or special event. It seems to make them that bit more special when i look back.
These ones were taken on holiday in France, at the poxy ruins no less. A holiday that wasn't actually a 'holiday' as such, but it's one that we will be much more likely to laugh about, than forget.
We've had an alright month I think although I can't really remember much of what we have done, except that it culminated in a nasty sickness bug. I had thought that looking after two sick children was pretty close to hell on earth until i experienced the flip side and was the one who was ill. Dealing with the tears, trauma's and putting up with my body being used as a human climbing frame whilst trying not to puke was pretty special. I have never been so glad to be back to normal self the last couple of days. Oh and to be back on the gin of course, a bank holiday with no gin was just plain wrong.
The boys are well, growing up oh so quickly. Since i started getting F's hair cut it has just gotten shorter and shorter, i guess to match the little boy he has fast been becoming. Only 9 months ago i was deciding on whether the mass of golden ringlets should get the chop, now they are but a distant memory.
And our little S, who i usually refer to as the baby, is hardly a baby at all anymore, i should probably start calling him a toddler. He's a happy bumbling little thing with an increasing array of words and a determined adventurous streak so alike that of his own dear bro. God help us.
We have a very busy June on the horizon, next weekend I go away to Spain for 3 WHOLE NIGHTS, with a very dear friend for a well needed child free break. This is in part payment for the fact that i will become a world cup widow when the husband buggers off to Brazil for 10 days mid month. I know, i know but he spun me a line about it being his dream since he was a little boy….
And then of course there is Britmums – the geeky blogging conference that i swore i would never attend! How times have changed, so sucked in am i now that I'm counting down the days. I am mostly looking forward to popping the cherry of the shockingly high amount of gin virgins that shall be attending – I'm looking at you Lucy!
Finally thank you so much again to everybody who voted for me in the BiB awards – i am made up to be in the finals, and still struggling to believe that my name is there. Here is the link if you also want to check out all the other great blogs that have made it through.
Have a fantastic June everybody xxx
This post is linked up to the very lovely Lucy at Dear Beautiful's family portrait project, a great way to make sure you get a monthly family snap :) click the button below to read more posts or join in.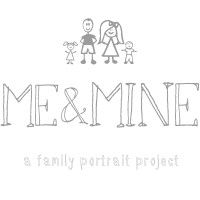 **************
P.S. My new book The Catastrophic Friendship Fails of Lottie Brooks is out on the 3rd March 2022! It's aimed at 9-12 year olds and you can buy it
here
 :)
As an Amazon Associate I earn from qualifying purchases.