So many beautiful days this month and so many wonderful photo opportunities, all blighted by naps, horrible moods or sheer absent mindedness.
We ended up taking our family portrait for March on the last possible day, in the only time slot available – breakfast. So we are not dressed and i am looking rather rough au natural. But never mind, i quite like it, it's nice for the photos to tell a little story i think.
Mothers day involved a nice lie in, breakfast, bath and papers, a couple of almighty tantrums, a lovely lunch at my sisters with my mum, dad and niece, lots of trampolining and a good few bottles of fizz.
Are you wondering what is in the present? F chose me a pony called Pinkie Pie, now renamed Lightening McQueen, like every other god damn thing in the house :)
I am ending the day feeling a little lot tipsy and a very, very lot lucky :)
This post is linked up to the very lovely Lucy at Dear Beautiful's family portrait project, a great way to make sure you get a monthly family snap :) click the button below to read more posts or join in.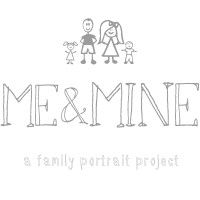 I have been lucky enough to make the finals of the MAD blog awards 2014 for 'Best New Blog'. If you would like to take a minute to vote for me here it would be hugely appreciated.

If you are feeling in a particularly votey mood you can also put me forward for the Brilliance In Blogging awards in the laugh, writer or fresh voice categories here. Ta!
**************
P.S. My new book The Catastrophic Friendship Fails of Lottie Brooks is out on the 3rd March 2022! It's aimed at 9-12 year olds and you can buy it
here
 :)
As an Amazon Associate I earn from qualifying purchases.